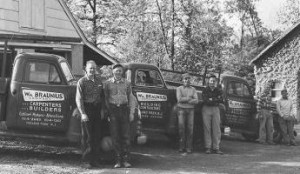 Braunius Bros.  Inc.  has been a part of this community for over 50 years.  Founded shortly after World War II by Peter and William Braunius, the company is owned and operated today by Paul Braunius and Robert Breeman, partners whose unique and complimentary skills allow them to build beautiful  homes for their clients.
President Paul Braunius handles initial sales, estimates and overall administration. With a degree in Construction Engineering Technology and the benefit of growing up in the business, Paul brings organization, precision and technical know-how to each job.  He takes the time to consider every detail of a project and review the fine print to ensure his bids are accurate and straightforward.  Paul does not like surprises and works hard to avoid them during construction.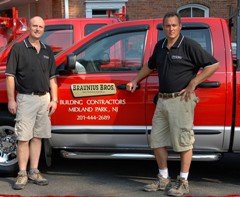 Vice President Bob Breeman provides construction management, design and overall building services.  Bob's 35 years of experience allow him to run each job efficiently and cost effectively. A master carpenter with a passion for design, Bob also leads the Design Build and Custom Millwork Divisions of the company.  He brings vision and creativity to each phase of a project and enjoys collaborating with homeowners and their design professionals so that each home reflects the personality and lifestyle of its owners.
Testimonials
Dear Bob and Paul,
We just had to write and thank you for all you've done for us:  you created the home of our dreams.
Thank you for you for listening to our needs and ideas so that this home reflects what is important to our family.
Thank you for patiently explaining all the things we did not understand during construction and for answering every one of our questions directly and honestly – no matter how often we asked!
Thank you for renovating our old house so seamlessly that the new space looks like it has always been here.  (We have a "nice house, not nice addition".)
Thank you for your high standards, your expertise, your craftsmanship and attention to every detail. You built this house for the next 100 years.
Thank you for staying on top of things and managing the process so smoothly so that we never had to worry about whether things were getting done correctly or on time.  The fact that we could rely so totally on you made everything so much easier.
Thank you for treating our money and our budget as if it were your own.  It's hard to spend such a large amount of money all at one time, but it's much easier when you know you are consistently getting great value at a fair price.
Thank you for introducing us to such a talented, friendly and courteous group of guys who worked so hard and so well in some pretty tough conditions (10 degrees, no heat, no windows…). Thanks to you and to them for the commitment to quality and incredible workmanship that is evident everywhere we look.
Thank you for all the time you spent designing, building, problem solving, collaborating, listening, fixing and improving until everything was just right. Your level of service is unparalleled.
Most importantly, thank you for your incredible vision.  It was your vision that carried us from looking at plans on the old kitchen table to living in a house more beautiful and functional than we ever could have imagined.  And you did it within budget and on time!
Working with you has been an absolute pleasure.  We are so grateful for all you've done.
Regards,
Mary and Phil Micale
**********